I know. I'm really behind. Let me remind you that I have only been out of school since December 23rd.
You read that right. December 23rd. Some *smarticle* (rhymes with particle) decided we needed to be in school until December 23rd!! Clearly, they have no children of their own. Nor have they been in a classroom in a gazillion years. Do you KNOW how NUTSO my precious angel-demons were? Completely and totally out of their minds. Anyhoo, I saw this linky party popping up here, there and everywhere. I want in on this fun! 🙂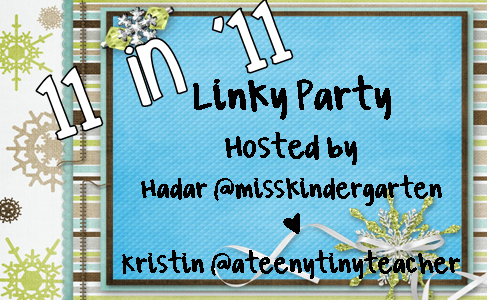 Everybody's favorite funny girl Kristin @ Teeny Tiny Teacher and Hadar @ Miss Kindergarten are hosting. Or, they were. I'm guessing they still are.
11. Favorite movie you watched:
Loved it. Just loved it.
10. Favorite TV series:
Just discovered Big Bang Theory. Hilariousness.
9. Favorite restaurant:
We went here for our anniversary.
I love Thai food.
Yum-diddly-icious
8. Favorite new thing you tried:
Testing the TpT waters. I have discovered that I really love creating and writing materials that I can use in my own classroom. It has been a fun source of extra income and I look forward to the days I give myself to just sit and write!
7. Favorite gift you got:
Somewhere, angels are singing.
Words cannot describe how much I love this machine.
Seriously.
6. Favorite thing you pinned:
Every word rings true.
5. Favorite blog post:
Probably Clip Chart Goodness. Using this has made me a better teacher, and it makes my students strive to be better people on a daily basis.
4. Best accomplishment:
Getting this blog up and running. I love sharing ideas with all of you!
3. Favorite picture:
Birthday fun with My Sweet Boy.
2. Favorite memory:
My teaching partner, Michelle, got married this year.
It was beautiful.
Such fun.
1. Goal for 2012:
Get healthy. I don't want to worry about sizes and pounds. I just want to be healthy again.
What a fun way to look back at the year! Don't forget to enter the
ginormous giveaway
I'm participating in!