I"m joining Rachelle over at What the Teacher Wants AND Farley at Oh Boy! 4th Grade for their I'm Thankful… linky parties!
1. What are you thankful for in your classroom?
I have been especially thankful for the Donors Choose materials that arrived last month. I have been using our new sight word games and word work materials in my strategy groups. I'm looking forward to introducing Word Work when we get back from break so the kids can work with them more often.
2. What person are you most thankful for?
My mom… hands down. She is the strongest, funniest, most thoughtful person I know. Our family would fall to pieces without her.
3. What 3 blogs are you most thankful for?
Angelia @ Extra Special Teaching is one of the most giving teacher-bloggers out there. If you haven't seen the games she makes to help her students with spelling patterns and sight words, you need to get there… NOW! I have used so many of the materials she has created.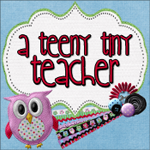 Kristin @ A Teeny Tiny Teacher. She's just plain funny. I always come away from her blog with a smile.
My longtime friend, Kari, writes about her adventures as a new mom and her walk with Him. I miss her more than I could possibly say, but I am thankful I can keep up with her (almost) daily posts about life in Senegal.
4. What guilty pleasure are you most thankful for?
Ice cream. Lots of it. Especially lately.
And Hoarders. It always makes me feel like my house is in waaay better shape.
5. What are you most thankful for?
God's never-ending grace. His voice in my head, in my heart, reminding me that I am still His child. I am thankful that His love is boundless and that He is in control of every worry I have. Even the dumb ones.
I hope you all have a marvelous break. I hope you know how much I love being a part of such an incredible network of teachers.
Happy Thanksgiving!