It's that time again! I missed out on the fun last month so I wanted to make sure I participated this time. 🙂
Listening – We had a "laundry party" today. It's actually still going strong. UGH. I really hate laundry days. I should probably feel guilty about the amount of laundry we had to do considering I am on summer vacation… but I don't. 🙂
Loving – Speaking of summer… I love spending my days typing away while I watch new shows in the background. I discovered Scandal and and Parenthood during June. I finished Season 1 of both shows and I'm working my way through Season 2. I would have finished all of Scandal by now, but the hubs got caught up in it and I re-watched the whole first season with him so we could be ready for Season 3 in the fall together. Yay!
Thinking – Lord have mercy! Summer, slow down! It is flying by way too fast. I haven't even been home (to WNC) yet!!
Wanting – I have been reading like a crazy person. Here's what I've read so far. I would love to hear your recommendations – professional or personal!
Here's what I've read so far:
The Book Whisperer (Miller)
Teach Like a Pirate (Burgess)
Finding Mrs. Warnecke (Rigsbee)
Save Me (Scottoline)
Outside the Lines (Hatvany)
Objects of My Affection (Smolinsky)
Needing – I've definitely hit a "summer slump" here. I have (no kidding) about 7 unfinished projects and at least 10 down on paper. I sit down at my laptop and I cannot make it happen. I'm thinking I might have to set up a schedule for myself… is that tho thad or what?!
Tips, Tricks, and Hints – After 2 years of plugging away on this blog, I hit a pretty exciting number this weekend: 1,000 followers! I am tickled pink and I cannot wait to celebrate with you! (hint, hint)
Farley was right. You have to be yourself. One of the reasons she is so wildly successful is because everytime she hits that "post" button, we click over so that we can hear what SHE has to say. It's her voice on that blog, and I hope here as well. 🙂
Be patient. The "lightning in a bottle" blogs are few and far between. 🙂 The rest of us keep at it in hopes that we'll reach that next milestone a little quicker than the last time.

Be willing to listen. If you're a seller, use the forums!! Better yet – click on the yellow school bus on the right and join Teaching Blog Traffic School. I started to see big changes when I started asking bloggers in those networks for feedback and help. Yes, it stings a little sometimes but products are better because I'm willing to listen to others and use their feedback to improve my ideas. This does not mean asking for ratings on freebies. This means networking, swapping products for edits, and using constructive feedback to improve your ideas.
Big love to Farley for putting this together every month. These templates are always so beautiful!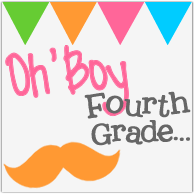 I hope this finds you happy and relaxed! Soak up these summer days – we know (sniff) they won't last long! Make sure you leave me a good book recommendation and follow me on Bloglovin' before Google Reader disappears tomorrow!